The Era of the Crusades (mp3)
Книги автора: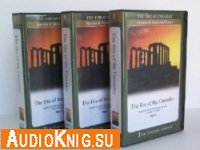 Аудиокнига скачать бесплатно:
The Era of the Crusades
Издательство:
The Teaching Company
Автор:
Professor Kenneth W. Harl
Год:
2004
Формат:
mp3
Размер:
264 Mb
Язык:
English
Продолжительность:
18 hours and 22 mins
The Crusades have been hailed as the driving force that brought Western Europe out of the Middle Ages—and condemned as the beginning of European imperialism in the Muslim Near East.
But what really were the Crusades?
What were the forces that led to one of history's most protracted and legendary periods of conflict? How did they affect the three great civilizations that participated in them? And, ultimately, why did they end and what did they accomplish?
A Crucial Chapter in the Story of Western Civilization
In The Era of the Crusades, Professor Kenneth W. Harl looks at the "big picture" of the Crusades as an ongoing period of conflict involving Western Christendom (we would now call it Western Europe), the Byzantine Empire, and the Muslim world. From this perspective, you will study the complex but absorbing causes of the Crusades, which include the many political, cultural, and economic changes in Western Europe after the fall of the Roman Empire.
In addition, Professor Harl presents the Crusades in terms of the specific military campaigns—the eight "canonical" Crusades that took place from 1095–1291—proclaimed to retake Jerusalem and the Holy Land from Muslim hands and return them to Christendom. You will consider the immediate circumstances—the leaders, purposes, key battles, and degrees of success or failure—surrounding these often-monumental expeditions (they could number as many as 100,000 soldiers and religious pilgrims).
This course is an opportunity to appreciate fully how Western Civilization changed in many profound ways during the Crusading era. You will understand how the Byzantine Empire collapsed; how Western Europe began its rise to global political, economic, and cultural power; and how the Middle East became a majority Muslim world.
You will also explore a wide variety of misperceptions and long-debated questions about the Crusades. Did the popes preach the Crusades as a way to increase their personal power and authority? Were the Crusader armies made up of zealous and brutal religious fanatics or of highly disciplined soldiers—heirs to a sophisticated Western European military tradition? Why did the members of the Fourth Crusade decide to sack Constantinople, turning the Crusades from Christian against "infidel" to Christian against Christian?
Course Lecture Titles
1. The Heirs of Rome
2. Byzantine Orthodox Civilization
3. Byzantine Zenith in the Macedonian Age
4. The Failure of the Heirs of Basil II
5. Abbasid Baghdad and Fatimid Egypt
6. The Coming of the Seljuk Turks
7. The Recovery of Western Europe
8. Kings and Princes of Western Europe
9. Warfare in Western Europe
10. The Papacy and Religious Reform
11. Piety and Pilgrimage
12. Christian Offensives in Spain and Sicily
13. Alexius I and the First Crusade
14. From Clermont to Jerusalem
15. Conquest and Defense of Outremer
16. Frankish Settlement of Outremer
17. Comnenian Emperors and Crusader Princes
18. The Second Crusade
19. The Empire at Bay
20. The Rise of Saladin
21. Byzantine Recovery under the Comnenians
22. A Renaissance of Byzantine Letters and Arts
23. Trade and Currency in the Mediterranean
24. Cultural Exchange in Gothic Europe
25. The Horns of Hattin
26. The Third Crusade
27. From Jerusalem to Constantinople
28. The Sack of Constantinople
29. The World of Frankish Greece
30. Splinter Empires and Orthodox Princes
31. Ayyubid Egypt and Seljuk Anatolia
32. Crusader Cyprus and the Levant
33. Venice and Genoa
34. The Mongols and the Legend of Prester John
35. The Royal Crusaders
36. The Passing of the Crusades